BENTON – A Granite City man was arrested on multiple charges after being involved in two weekend incidents north of Benton.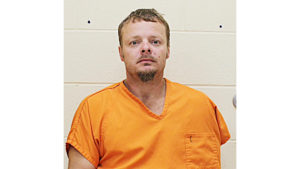 According to the Franklin County Sheriff's Office, 40-year-old Charles A. King is charged with Aggravated Assault, Aggravated Unlawful Restraint, Aggravated Fleeing and Attempting to Elude a Police Officer, Driving with a Suspended/Revoked License, Improper Passing on the Shoulder, Speeding 35 MPH or Over, and Violation of License Classification. King is currently held in the Franklin County Jail pending a detention hearing.
The first incident happened at 5 p.m. Saturday when a deputy attempted to pull a red motorcycle over operated by King on Illinois 37 near Mallard Lane north of Benton. King sped away after seeing the deputy's emergency lights. The deputy pursued King, but wasn't able to see the motorcycle due to its speed. A few minutes later, the deputy saw the motorcycle lying in the roadway on Benton Camp Road. King could not be located. More deputies and local officers responded to help, but King was never found.
The second incident happened Sunday evening when deputies got a 911 call for service at a home on Benton Camp Road north of Benton.
The caller said she was being held against her will by a man she knew was living at her home and that she needed help. Deputies quickly responded, got inside the home and located the caller. She said the man fled into the woods prior to police showing up. Deputies were soon able to identify the man as King and determined that he was the man operating the motorcycle the night before.
Franklin County Emergency Management Agency was requested to respond for the purpose of deploying an infrared equipped drone. Within minutes, the drone was able to locate a heat signature in a heavely wooded area near the home. Deputies, with help from Benton Police and the Illinois State Police soon entered the woods and shortly thereafter, Sheriff's K9, Riot, located King and he was quickly taken into custody.