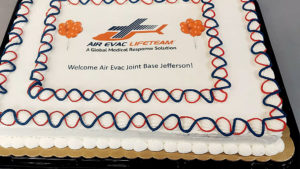 MT. VERNON (WMIX) – People involved in the development of a new Air Evac Joint Base Jefferson being built at Mt. Vernon Outland Airport gathered Monday for a ground breaking ceremony at the airport.
Air Evac personnel and other partners on the project, including investors and architects, were present for the celebration, along with leaders within the City.
The new base is being built in the airport's Innovation Park. The new facility comes after the Mt. Vernon Airport Authority Board of Commissioners approved a $1.9 million bid from Evrard Company of Marion to build the new base. The base is designed for future expansion on both the air and green space.
The 8,000 square feet facility is expected to be completed next year and will house aircraft from both Air Evac Lifeteam 11 and Air Evac Lifeteam 172, along with two flight crews, dedicated aircraft maintenance personnel, and management staff.
The base will serve southern Illinois 24 hours per day, seven days a week, 365 days a year.